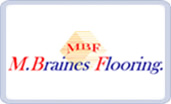 M. Braines Flooring is a family run business that was established in August 2003 in Leicester, UK.
We can cater for both domestic and commercial clients, with all aspects of flooring covered.
See Our Services to find out we can help you.
We began as a father and son business but have since expanded and now employ a number of subcontractors and sometimes other casual labourers. We have a very varied list of clients with numerous repeat customers. We have over 30 years experience in the trade and extensive in-house and on the job training. We also sometimes employ work experience students from a Leicestershire college. Please Contact Us to find out more.
Our specialities and clients include schools, disabled adaptations and bathrooms for councils, care homes, colleges, universities, venues, mobile businesses, domestics, and neighbourhood centres. See our Clients for testimonials and examples.
We can also supply flooring Products to suit your needs.
Company Information | Copyright | Liability | Third Party Sites| Privacy Policy